Island Brač, east side. There are different walls starting from 20 to 40,50,m.
BEST SPOTS BRAČ 6-9 nm1
.KAMENA PLOČA BRAČ
GNIZDO BRAČ
KAVALINA STRMINA BRAČ
VOŠČICA BRAČ
TIČIJI RAT
RASOTICA
PLANIK POSEJDONOVI PRSTI
PILA BUNTA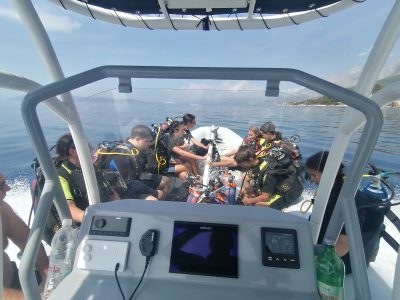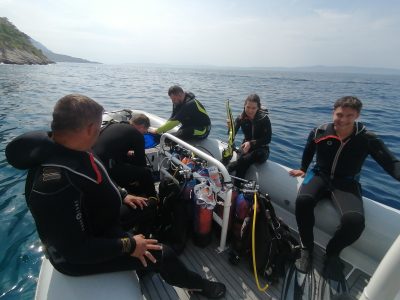 Morning dive at 8:00 tuesday or sunday, island  return at 13:00
Recommended to take reservation 1-2 days before, check week planning when is your location.
Begin in More sub office, getting, puting on  equipment. Then walk to boat in wet suits and finnaly drive to location with 9m big highfield patrol 860 speed boat.
Another one is 5-6 divers completely with equipment on, driving direct with fast zodiac to spot in 20 min drive.
Dive sites
Kamena ploča
This walls are in 3 best location for me in this area . There is possible to dive around reef on top of walls till 12m nice for discovery and also nice rich corallwalls deep suitable for Aowd divers. OWD divers are diving on half depth of walls, that mean taking a care for bouyency. Return is on 5 m at nice reef with reach sea life.
Gnizdo
Wait 5.45 min of GNIZDO VIDEO WATCH IT!
Wall is my reserve option for next day, because its so beautiful with sea life. From 15 to 40 m are beautiful walls with lot of holes, coralls, fish who is living in holes. There are reef till 18 m for owd and discovery divers.
Rasotica wreck
Is reef in beautiful bay, nice for snorkeling, discover dive, PADI courses.
Reef is descending to 20m. South of wall 10m is one small wreck burned in 1977,laying on 20m depth. Place is protected of wind and waves. Viability is sometimes 30 m!
Bila punta
wall from 20 to 40m.is beautiful wall yust smaller distance but always with capital fish.
Plava strmina,Kavalina, Voščica wall from 20 to 40m.
Are 3 walls in my 3 best wall here. It's amazyng long, you need 4 dives to complete see it. There are plenty of holes coralls fish, caves. It's good for protection of Jugo wind
Tičiji rat wall from 15 to 50 m. It's next top wall of this area. It's a little bit long drive there 1:15 h duration. So we are using selten this very far but beautiful location.